People are the heart of any business. Hiring, training and retaining workers are fundamental tasks for business leaders across all parts of an organization, not just within Human Resources. Doing these tasks well impacts a company's strategy and operations. However, success is also highly dependent on the economy, labor market and demographic trends. In this article, we explore what the hiring landscape looks like in 2023 and how it might evolve in the coming years.
The labor market is shifting
The labor force is changing due to both recent economic events and generational shifts. This has created staffing challenges for all types of businesses from manufacturers to retailers. Adapting to these challenges will be central to any company's growth strategy for years to come.
Perhaps the biggest challenge occurred during and after the pandemic. Initially, the nationwide lockdown caused the U.S. unemployment rate to spike to almost 15%, its highest level since the Great Depression. The sharp slowdown in the global economy led many businesses to lay off employees and brace for the worst. Many who were laid off during this period became discouraged and left the labor force, especially in hard-hit sectors such as retail, travel and hospitality.
These sudden shifts in unemployment and participation in the labor market left policymakers worried about the long-term health of the economy. Strong fiscal and monetary support as the economy reopened allowed business activity to recover rapidly. Since then, the unemployment rate, currently at 3.5%, has swung back to its lowest level since the Nixon administration.
Even in the calmest of times, staffing a business and competing for the best workers can be challenging. The labor market swings of the past few years have only made the situation more difficult. Despite concerns over an economic slowdown, the job market remains highly competitive with job openings outpacing the number of unemployed individuals nearly two to one. Rising inflation has also created upward pressure on wages. Hourly workers have seen their wages grow as fast as 7% year-over-year nationwide. Even when companies can hire qualified workers, there may be pressure on profit margins.
These challenges are even more pronounced in the Midwest. In Minnesota, for instance, the unemployment rate is only 3.0%, and there are 2.3 job openings for every unemployed individual. In North and South Dakota, unemployment is the lowest in the country at 2.1% for both states.
Fewer Americans are participating in the labor force
One measure of the vibrancy of the labor market is the participation rate. This provides a sense for the percentage of the population that is either working or looking for work. Labor force participation is high when people feel engaged and there are opportunities. While the nationwide labor force participation rate has recovered to 62.6%, up from its pandemic low of 60.1%, it remains below pre-2020 levels. Even small changes to the participation rate are impactful since it represents millions of Americans.
National labor force participation rate1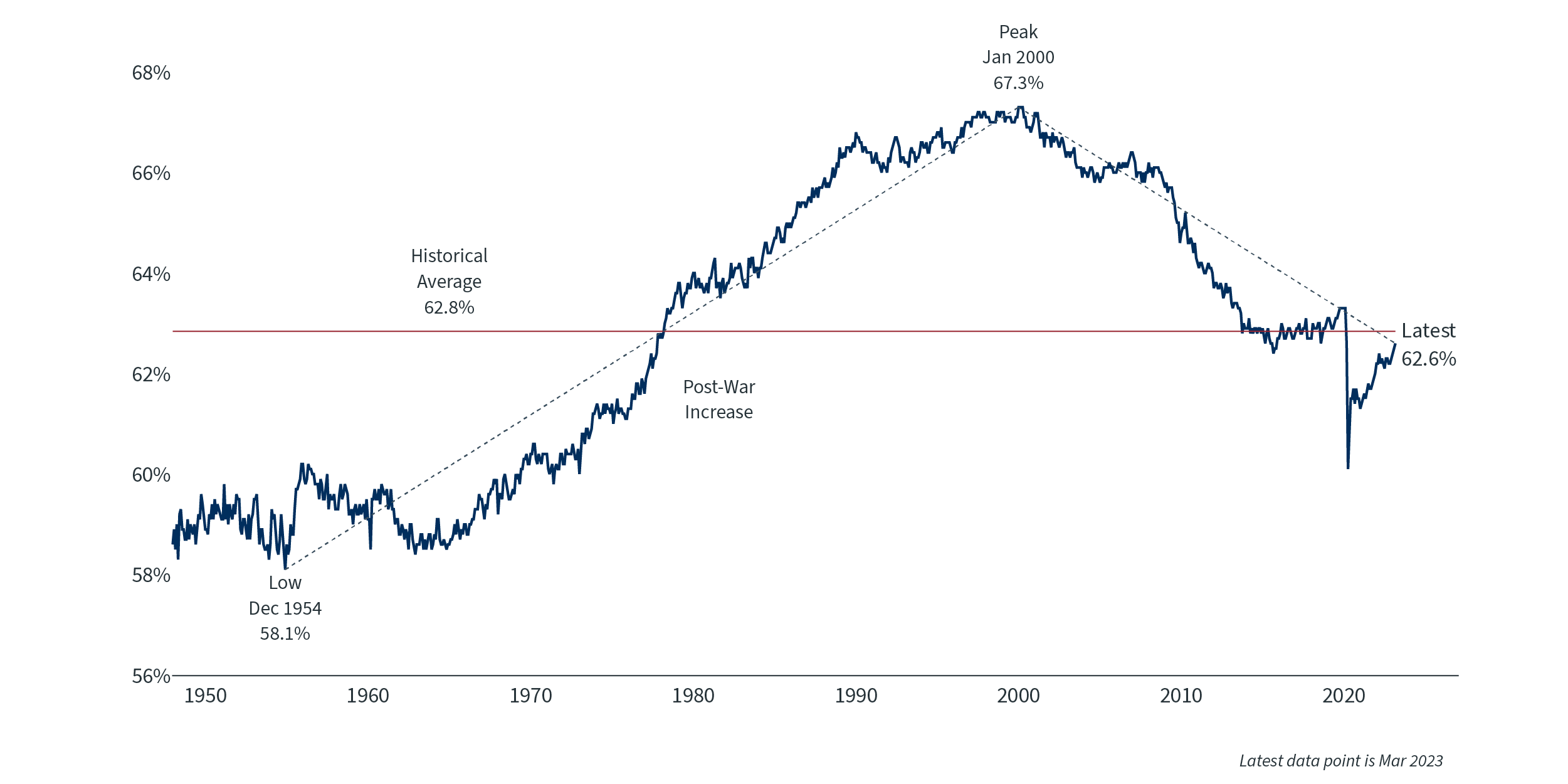 Taking a broader historical perspective, the labor force has shifted significantly over the past century. Following World War II, participation rates rose over the course of 50 years as the economy recovered and women entered the labor force. The Baby Boomer generation came of age during this time, further boosting overall participation rates to record levels. A booming economy driven by globalization and information technology created many high-paying jobs, fulfilling the promise of upward mobility and creating a vibrant middle-class.
These combined factors lifted the labor force participation rate to its all-time high of 67.3% in 2000 when the oldest Baby Boomers were 54 years old and the youngest were 36. Since then, as the oldest Baby Boomers began to retire, demographic trends pushed the labor force participation rate lower. The global financial crisis of 2008 only accelerated this trend as millions of jobs were lost. The economic expansion after 2009 is often referred to as a "jobless recovery" because hiring was slow to return across industries.
Labor force participation rates and historic peaks across Midwest states1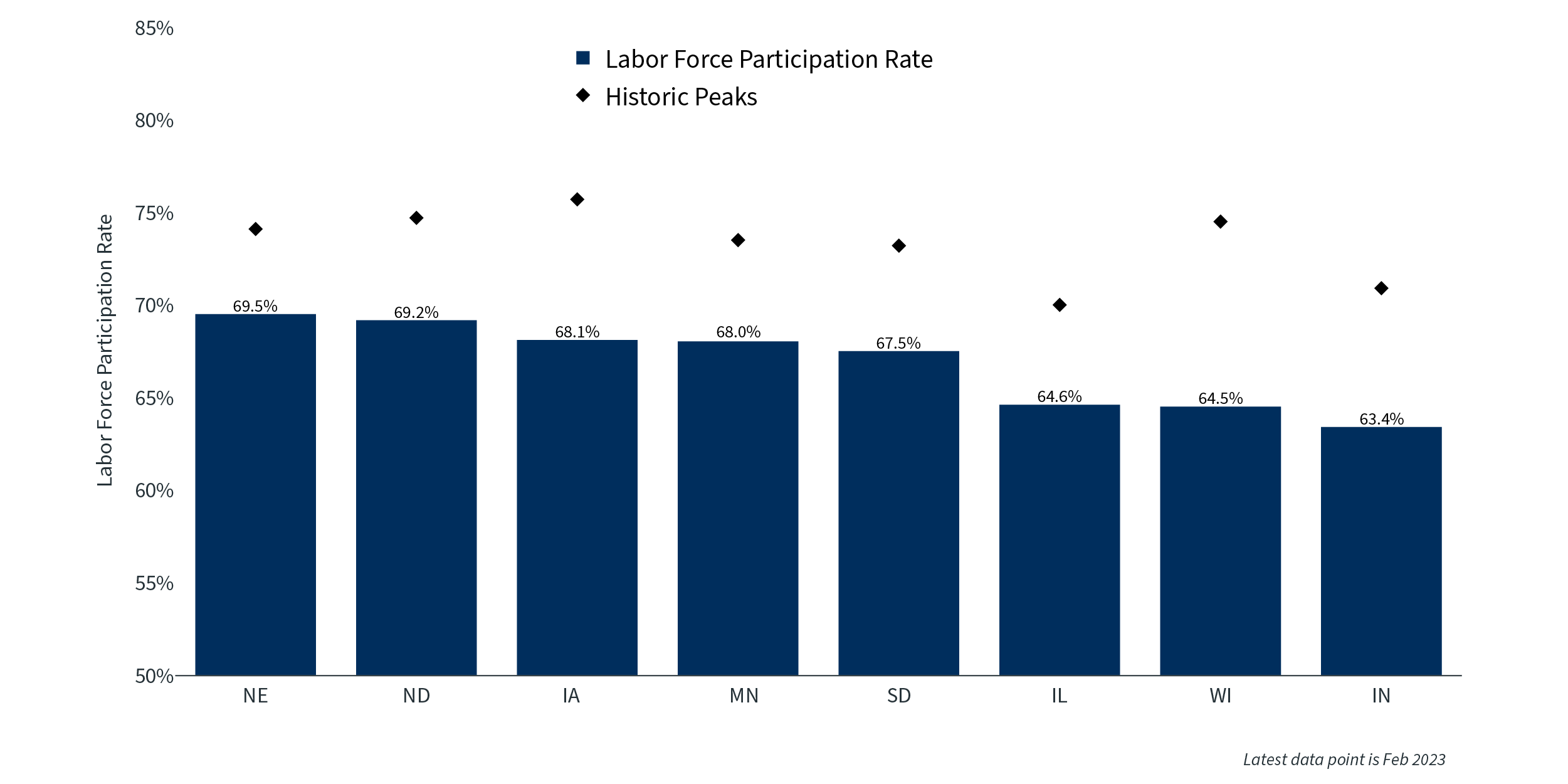 Similar trends have affected the Midwest. Prior to the pandemic, Minnesota's labor force participation rate was 69.9%, approximately 7 percentage points above the national level, but it has since fallen to 68.0%. While the level of participation remains significantly higher than the national average, Minnesota has struggled to recover. In February, Minnesota's labor force participation rate was 1.9 percentage points below its pre-pandemic levels and has declined over the past six months.
Strategic challenges and solutions for employers
How does this impact businesses? In simple terms, lower participation means that fewer people are engaged in the workforce. This increases competition for new workers and for retaining staff. Ultimately, businesses will need to reconsider where they recruit and what types of candidates they target. This is especially true as wages rise and the impact of employee turnover on strategic plans becomes more costly.
Fortunately, there are a few practical solutions that business leaders can consider in the coming years. First, businesses across industries should broaden their view of recruitment and hiring, including considering less-experienced candidates or those reentering the workforce, as well as looking for talent from different backgrounds and industries.
Second, providing benefits and services that employees value can help to retain talent. Services such as childcare, affordable housing and more have been shown to increase employee satisfaction and reduce attrition rates. This is especially important in highly skilled jobs that require significant investments in employee training.
Finally, immigration policies will need to address the shortage of workers. According to the Minnesota Chamber Foundation and the Minnesota State Demographic Center, the state has suffered 15 consecutive years of net domestic migration losses, with estimates ranging from 7,000 to 12,000 people per year. Minnesotans ages 18 to 24 were the primary drivers of the domestic migration losses with "two-thirds of Minnesota's total annual domestic net loss" due to students leaving for higher education and far fewer returning. The challenge of losing workers is particularly pronounced when these represent the highest skilled people.
A unique environment, but there are opportunities
The broad shifts in the labor market have made the current hiring environment as challenging as any. As economic uncertainty continues, the post-pandemic work environment remain a strategic challenge for business leaders across all industries.
However, there are opportunities as well. Those who can redefine what ideal candidates may look like, such as by broadening to other demographic groups and rethinking their retention strategies, could be in a better competitive position. Addressing today's workforce needs can create a competitive advantage for years to come.