by Simon Malinski and Doug Alverson
For any business, purchasing and maintaining the right equipment is critical to growth. Even in normal times, deciding and executing on the right equipment strategy can be challenging. However, the last few years have been anything but normal as business leaders have navigated a complex environment of uncertain economic growth, a tight labor market, fluctuating interest rates and more. In many cases, businesses postponed important equipment decisions as they waited for more clarity. With the economy stronger than many expected, now may be a good time to revisit these decisions.
When done well, equipment finance can play a strategic role in addressing challenges across the entire business. Equipment financing is a continuous process that is intertwined with the health and growth of a business. Understanding the broader economic environment can help leaders turn financing needs into business opportunities. While financing decisions are relevant to all businesses, the relatively large size of equipment loans in capital-intensive industries magnifies the impact of these decisions.
Economic challenges
The stronger-than-anticipated economy is positive for business demand but also creates additional challenges. According to the Minneapolis Fed's General Business Conditions survey, 77% of businesses have found it moderately or extremely difficult to hire new employees in 2023. These problems have proven persistent as the national labor market has weakened only slightly throughout the year. The labor market in the Midwest is more competitive than the national economy: in Minnesota, North Dakota, South Dakota and Wisconsin, for example, there are two job openings per unemployed person, which is significantly higher than the national level of 1.5. As a result, attracting qualified workers has rarely been more difficult.
Job openings per unemployed worker1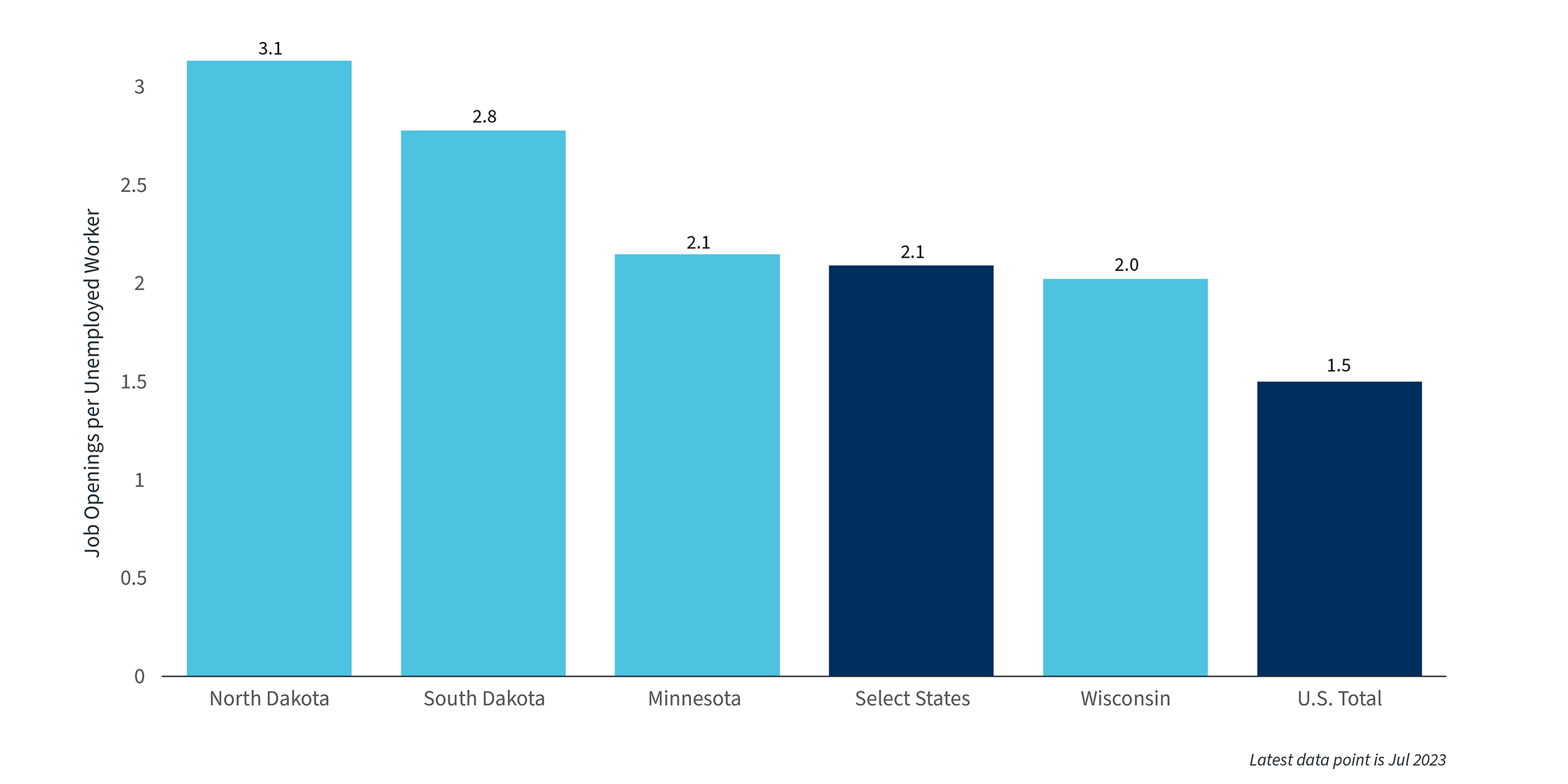 Longer-term trends also suggest that the labor market for employees in manufacturing-related industries will remain competitive. Despite a significant downturn in manufacturing employment in the U.S. during the early 2000s, domestic manufacturing employment has rebounded to its highest level since the global financial crisis of 2008. Furthermore, it's likely that recent government subsidies to spur domestic manufacturing will only increase the demand for qualified workers.
For example, the transportation industry has faced persistent driver shortages that are expected to worsen in the coming years. The American Trucking Association estimated that the driver shortage reached a historic high of 80,000 drivers in 2021 and has forecasted that this number will only increase. For many trucking companies, the job qualifications and lifestyle requirements associated with trucking can make it difficult to retain drivers and recruit new ones.
Due to driver shortages, transportation companies are selling off unutilized fleet vehicles, which has softened the used market for power units. While still more competitive than typical, this has helped to restore the used market to a more normal level after being inflated for the past three years.
In situations like these, the challenges of buying new equipment and finding qualified workers can be addressed with one solution. In trucking, investing in new equipment is not only good for boosting efficiency and growth, but it can also help improve working conditions for employees. This increases job satisfaction and morale, resulting in intangible benefits that add to the typical advantages of using newer equipment. Other initiatives such as improving fleet management processes and providing driver training can also ensure that operators are allocated most efficiently and with a high degree of satisfaction.
Similarly, investing in newer, more efficient equipment can help maximize the productivity of existing employees. When it comes to machine tooling, for example, equipment can age quickly and become obsolete as newer technologies become commonplace. As such, replacing equipment is a continuous process that requires businesses to stay up to date and make strategic investments in new technologies. Doing this well can reduce the demand for labor while reallocating employees to more valuable activities.
Growth amid uncertainty
As the final quarter of 2023 begins, the economic outlook remains uncertain. Year-to-date economic growth has exceeded expectations as the business climate has remained strong despite the Fed's rapid interest rate increases. Expectations for the third quarter are high with the Atlanta Fed's GDPNow estimate at 4.9%. Inflation has also moderated substantially since the start of the year. The consumer price index, a common measure of inflation, has improved from 6.4% year-over-year at the start of 2023 to 3.7% recently.
Still, the Federal Reserve continues to emphasize its commitment to bringing inflation back down to its 2% target. Many economists expect the Fed to keep interest rates higher for longer. Current Fed projections suggest that policymakers believe 5.5% would be an appropriate target interest rate at the end of 2023, which could then decline to 5.0% by the end of 2024.
Federal funds rate2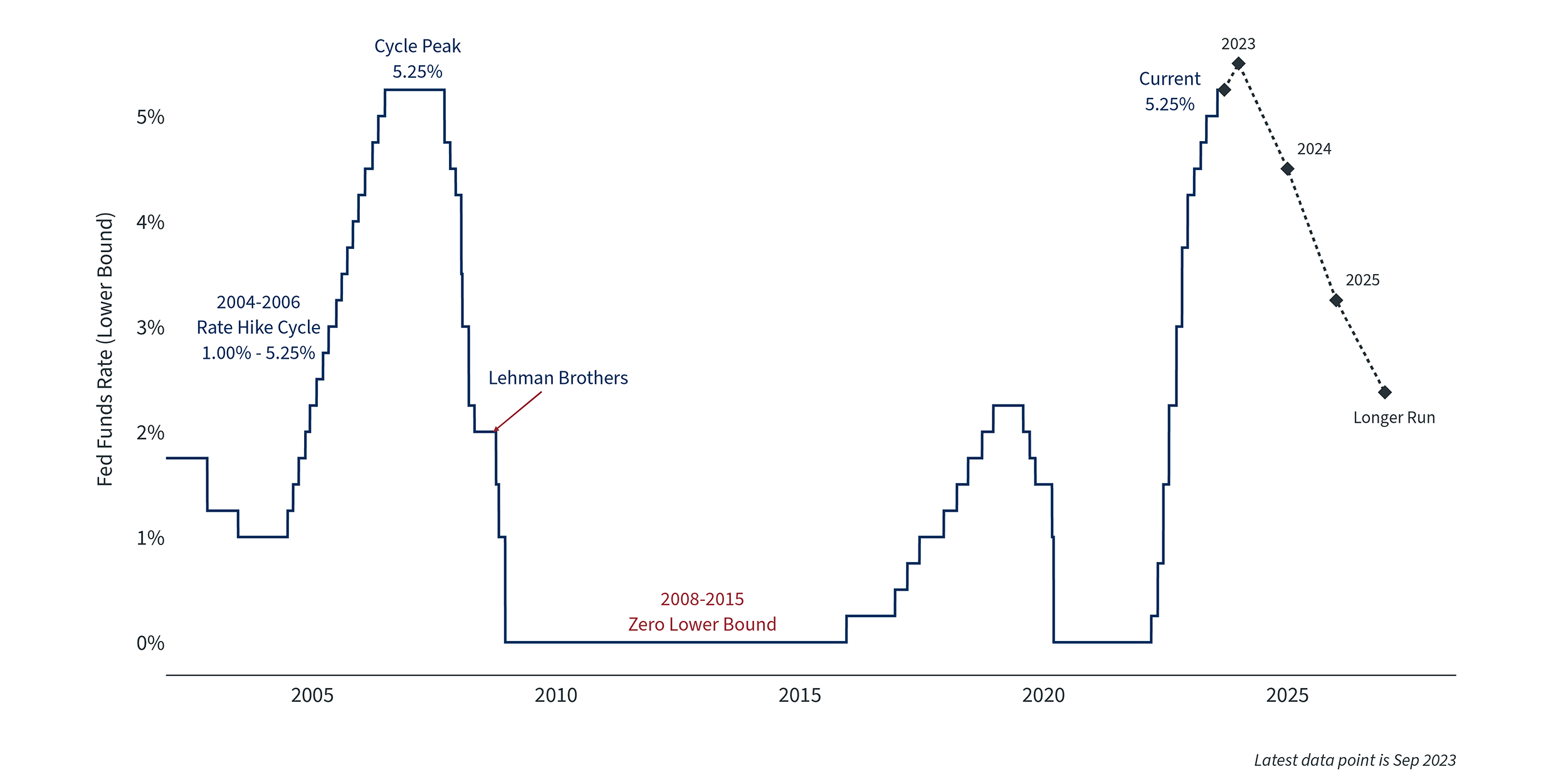 At the same time, the recession that has been repeatedly forecast has not materialized across all industries. The manufacturing PMI index, a measure of manufacturing activity, remains in contractionary territory, though it is showing signs of improvement and could trend upward.
If economic conditions accelerate, it will be important for businesses to be well positioned to operate efficiently. For example, businesses that have been hesitant to invest in new manufacturing capacity over the past few years should revisit their strategic plans to keep up with future demand. Ordering new equipment could play a key role in those plans to take advantage of the benefits described above.
Embracing opportunities
In the face of unsteady interest rates and broader economic uncertainty, making key business decisions can be a daunting task. For capital-intensive businesses with aging or insufficient equipment, simply postponing these decisions is not a sustainable solution.
Fortunately, a variety of financing solutions are available for businesses in this environment. Working with a strong banking partner can allow companies to finance equipment in a streamlined way that meets strategic objectives, with no existing relationship required. Structuring this financing to go beyond the purchase price can also help solve strategic challenges across the business.
For example, additional funds can be allocated to training costs, maintenance or business analytics, further helping to increase the utilization of new equipment and productivity of workers. This in turn can improve overall efficiency. The ideal banking partner can structure financing agreements tailored to the specific needs and goals of the borrower. The customization of loan covenants and terms can also provide borrowers with the flexibility to secure financing without undue cost.
As the economy stabilizes and even accelerates, now is a good time to reassess equipment needs to keep up with demand. Working alongside a trusted, experienced partner can help business leaders ensure that their operations run smoothly regardless of the economic environment.