Nonprofit leaders are no strangers to adversity as they strive to achieve their missions. Even in the best of times, nonprofits must deftly navigate a variety of operational, hiring, financial and fundraising challenges in order to do the most good with their resources. However, the economic and market environment since 2020 has compounded these issues, creating one of the most difficult periods for nonprofits in history. For these organizations to maximize their community impact, it's critical that they adapt and maintain sustainable operating models to best serve the public for years to come.
This is particularly true in the Midwest, where nonprofits are incredibly diverse and cover the spectrum including healthcare, education, arts and culture, and social services. In states like Minnesota, these organizations are also some of the largest employers. There are over 9,500 nonprofit employers employing roughly 14% of the workforce across the state, according to the 2020-21 Minnesota Nonprofit Report1.
It is not an exaggeration to say that the health of nonprofits is vital to many communities, though these organizations face several key economic challenges.
The impact of inflation on nonprofits
The first challenge is that inflation has raised costs, eating into budgets across the board. Today's rising prices can be traced back to the pandemic, which severely disrupted supply chains and created a surge of consumer spending. At its peak in the summer of 2022, consumer prices had risen 9.1% compared to the previous year. This unstable situation raised the cost of goods and services across the board, increasing expenses for all organizations.
Inflation in the Midwest region2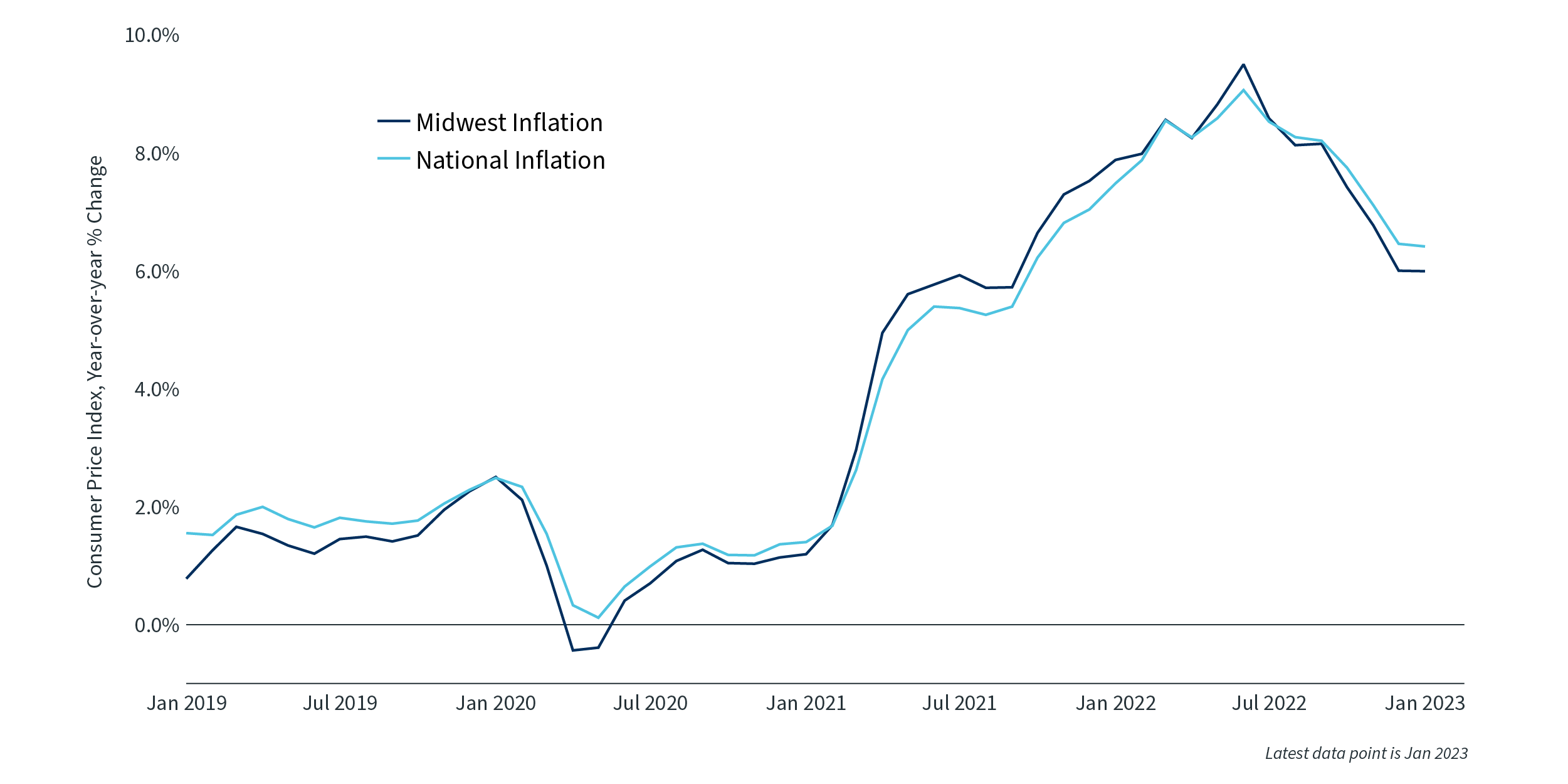 Prices have begun to ease, especially in the Midwest. However, the cost of many services remains elevated. Hospitals, for instance, have faced higher labor, medical care commodity and food costs, in addition to other lingering issues from the pandemic. Nonprofits that are sensitive to transportation or energy costs, including elder care, have been directly affected by rising gasoline and oil prices. The list goes on and on.
This creates budget challenges that must be managed carefully. Fee-for-service organizations may find it difficult to raise prices sufficiently to cover high single-digit inflation rates without compromising their missions. Those reliant on government contracts and grants also face challenges because funding levels may not match new realized costs. In addition, any delays in government payments can lead to unexpected financing and budget gaps when prices are rising.
There are no easy solutions to managing inflation. On one hand, many economists, including those at the Fed, expect price pressures to ease in the coming year. On the other hand, the level of prices could remain high, which will require nonprofits to adapt. The best way to do so is to manage costs carefully in this environment, carefully raise prices where possible and re-evaluate funding needs when applying for grants. Nonprofit leaders should consider banking solutions that can bridge financing gaps to ensure there are no disruptions to the important services their organizations provide.
Labor market difficulties
The tightness of the labor market has not only made it difficult to hire and retain workers but has also boosted wages alongside inflation. Recent labor market data show that hourly wages rose 5.1% compared to the prior year nationwide and 5.0% in the Midwest. While this is slower than inflation, it does take a bite out of nonprofit budgets and strategic plans.
This problem is even more acute in the Midwest. While unemployment is only 3.4% nationwide, the lowest since the early 1970s, jobless rates are even lower in much of the Midwest. At the end of 2022, Minnesota's unemployment rate was only 2.5%, the fourth lowest in the country, while North and South Dakota both had rates of only 2.3%, tied for second. Across the region, job openings outnumber unemployed individuals two to one.
State unemployment rates2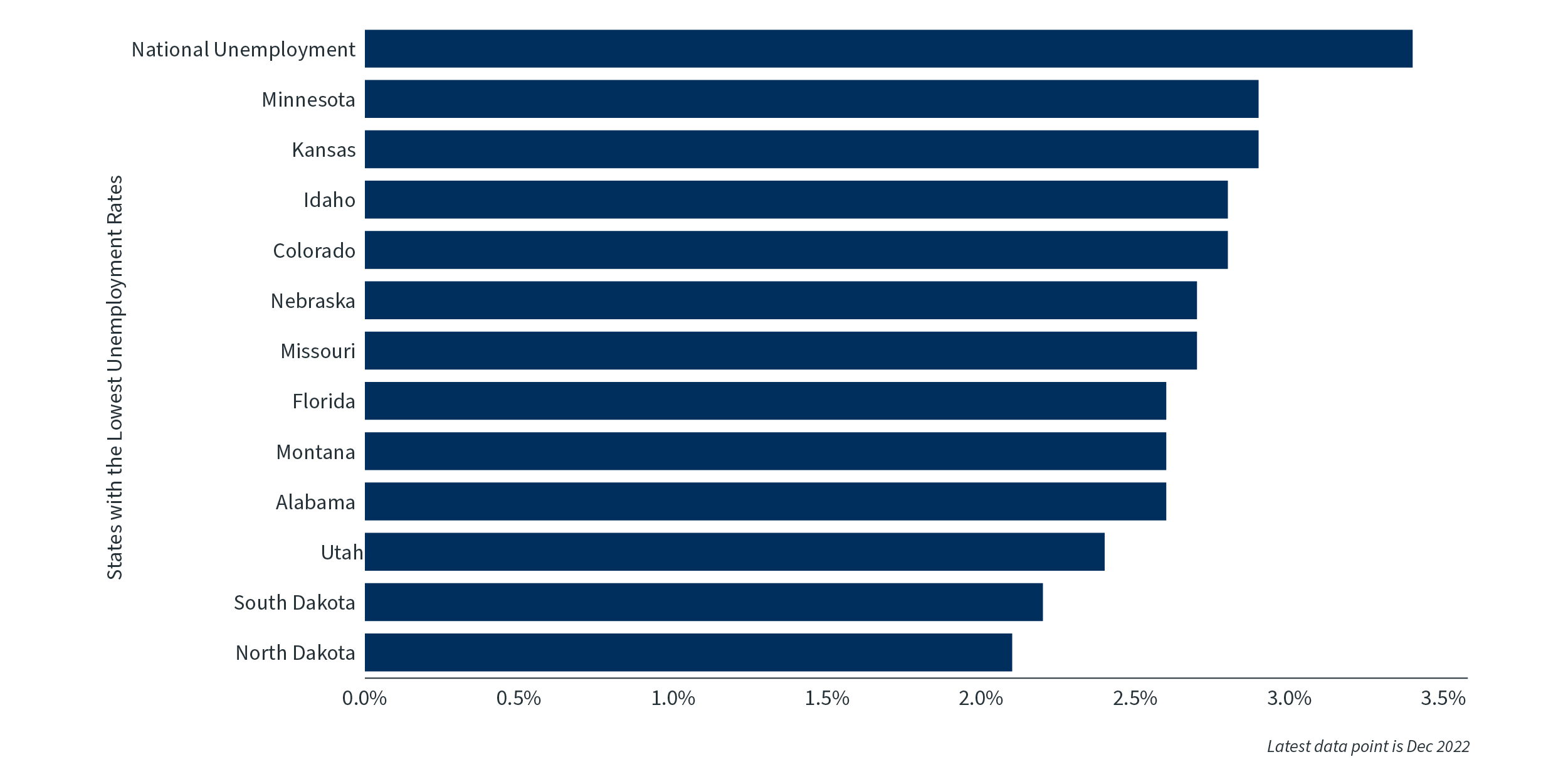 For all nonprofits, this creates a competitive environment for hiring and retaining skilled and qualified workers. These hiring costs are particularly difficult for administrative workers as there are often government-imposed limits on how much of a grant or contract can be used to pay administrative and organizational staff.
For this reason, it's important for nonprofit leaders to embrace technology and automation in their longer-term strategies. Continually leaning into technology-driven solutions allows employees to do their jobs more efficiently, especially when there are limits on administrative costs. This can include the use of banking solutions that can allow nonprofit CFOs and Treasurers to do more with less.
Higher financing costs
Lastly, inflation has pushed interest rates higher. This has tightened financial conditions and forced many organizations to reevaluate their strategic plans, find other means of covering expenses and possibly reduce their budgets entirely. While credit spreads have stabilized somewhat, market-based interest rates continue to fluctuate. The 10-year Treasury yield, for instance, has jumped from under 2% in early 2022 to nearly 4% today.
Financial market conditions have also created a difficult environment for fundraising and charitable giving. As of early 2023, major stock market indices were still in bear market territory with the S&P 500 down 16% from its peak. What makes this period unusual is that bond markets have also struggled as inflation and interest rates have risen. Many donors and grant-making organizations have likely felt this pinch over the past year.
For some organizations, it may be tempting to delay crucial projects by waiting for rates to decline and inflation to return to pre-pandemic levels. Unfortunately, higher interest rates and this era of economic uncertainty are unlikely to end anytime soon. The Fed, for instance, expects its main policy rate to continue to rise in 2023.
The good news is that financing rates can be managed, and higher rates can also be positive for those nonprofits in a position to benefit from higher cash yields. Organizations with a trusted banking partner may be well positioned to take advantage of rising rates across a number of instruments and strategies via treasury management solutions and strategies regarding asset management and debt planning. Over time, this can also help nonprofits to better cover operational expenses and to close funding gaps. Most importantly, this allows nonprofits to continue to serve their communities by focusing on mission-critical projects.
Navigating the path ahead
Nonprofit leaders face many hurdles in this market and economic environment. This adds to the day-to-day challenges of delivering the best services, education, care and support to their communities. A strong financial foundation, with the support of a strong banking partner, can allow nonprofits to continue to provide important public services while ensuing a long future of continued impact.